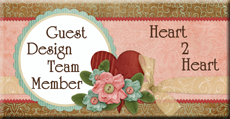 For the Month of May, I have been chosen to be the Heart2Heart Blogspot Guest Designer! I feel very honored! Each week in May they have challenges to participate in and I have been working on the first 2 challenges for this month. Starting May 7th I'll be showing my artwork for that week's challenge. I'm looking forward to participating and I hope you will consider joining this month's Heart 2 Heart challenges. Just go to
this link
and try it for yourself. It's a good way to "think outside your own creative box"! I like what they say on their blog:
There will be a variety of challenges posted and Close To My Heart products are required to enter. Don't have any CTMH products? Then Beg, Borrow or BUY from our fabulous roster of Consultants!
You are more than welcome to borrow from me, just let me know what you'd like to try! Thanks for stopping by!