I entered a challenge in March and found out they chose my card as their top pick! I received this award: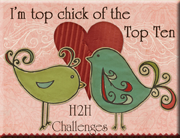 It's always fun to win contests! I will be a guest designer in May for the Heart to Heart Challenges! Yahoo! Hopefully my creative hat will be working:-)
This is the card that I entered:
Thanks for stopping by!